Announcing our TripAdvisor Certificate of Excellence 2018
TripAdvisor Certificate of Excellence is one of the few honors TripAdvisor gives in recognition to its well-performing partners.
The Certificate of Excellence honors hospitality businesses that deliver consistently great service across the world, and receive excellent reviews from travelers as a result. It is presented to only 10% of all the total businesses on TripAdvisor that have consistently achieved great reviews over the past year.
To get the TripAdvisor Certificate of Excellence Award, businesses must:
Maintain Very Good and Excellent reviews ( 4 out of 5 rating)
Receive a minimum number of reviews (the exact amount is part of the secret algorithm of TripAdvisor)
Have been a member of TripAdvisor for at least 12 months
It's not easy to get this certificate, since it doesn't require any application or payment for inclusion as TripAdvisor Explains in details within their Policies for the certificate, you simply receive it when you serve real people well and get genuine feedback from them.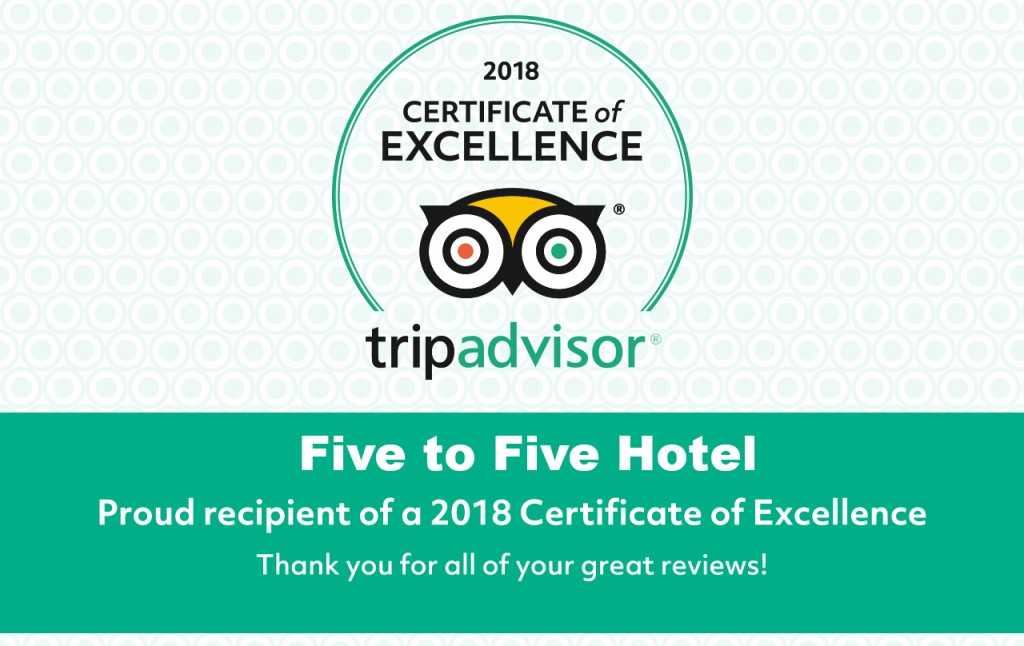 Five to Five Hotel is one of the 10% businesses worldwide in all categories put together, such as hotels, destinations, attractions, restaurants, etc… to gain that honor in the year 2018. This means we have  maintained a 4+ out of 5 rating for the whole past year of 2017 to May 2018, with many consistent and frequent high quality reviews from our satisfied customers. You can verify this by visiting our TripAdvisor Profile to read our customer reviews, and see our Certificate of Excellence badge on our TripAdvisor profile cover.
We are sincerely grateful to all our customers who have made this possible by leaving us great positive reviews. We couldn't have done it without you. Your appreciation will be rewarded with more improved services in our hotel, to treat you even better the next time you visit us.
If you haven't left your review yet, please Submit it Today!