Rwanda Welcomes the world – No more Visa Application required
From  2018 all visitors don't need prior application of visa to enter in Rwanda
Rwanda has opened its doors to all travelers across the globe by making Rwanda Visa Application extremely easy, from January 1st, 2018, everyone who wish to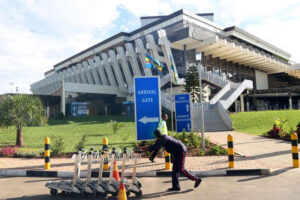 travel to Rwanda can wake up and fly to Kigali International Airport the same day without prior visa application, and be granted a 30 days visa upon arrival. Before that, only nationals of African countries and a few others were getting visa upon arrival, everyone else was required to submit their application online or at the Rwandan Diplomatic Missions of their country of residence, and wait for processing and approval before getting to Rwanda.
This resolution is part of the New Visa Regime, that seeks to increase Rwanda's openness and accessibility to the rest of the world. Which also enabled Rwandans living abroad with dual nationality to use their IDs for entry, they are no longer required to pay visa application fees.
Rwanda has also granted a free 90 days visa on reciprocal basis to these countries: Benin, Central African Republic, Chad, Ghana, Guinea, Indonesia, Haiti, Senegal, Seychelles and Sao Tome and Principe. This is in addition to DR Congo, East African Member Community Partner States, Mauritius, Philippines, and Singapore.
The resolution is expected to increase tourism activities in the country, due to easy accessibility by foreign nationals who wish to travel into the country. This comes at a time when the African Union is in the process of adopting a treaty to liberalize free movement across the continent.
The treaty seeks to realize the old ambitions of opening up the continent to increase opportunities of trade & investment for Africans.
In addition to a secure environment in Rwanda, previous visa amendments have increased a number of visitors to the country. For instance, when Rwanda moved to issue visa upon arrival to all Africans, the number of African nationals that were issued visa on arrival at Rwandan entry points increased from 31,054 in 2013 to 77,377 in 2016. Therefore, this adjustment is also expected to increase revenues from touristic activities of travelers from across the globe.
Five to Five Hotel will provide you with Free airport-pickup upon arrival, a ride that takes an approximate of 5 – 10 minutes to our Hotel, we also give you free rides to any other area in Kigali and back to your room. You can view a list of all our services from Here, or Book your stay at low rates from Here.
Read the official announcement of the New Visa Regime from here: Download PDF